DID YOU KNOW . . .
Analytics has been the top strategic priority for Insurance Chief Information Officers (CIOs) for many years, according to Gartner Research. However, other Gartner studies have found that the level of maturity among insurers around analytics is often low. This is problematic as the business demands grow and the need to innovate through intelligence becomes a strategic differentiator.
One of the main problems in gaining analytics strength requires "moving beyond the actuarial department," and Applying Data-Driven Insights into Claims Handling, Brokerage, Loss Control, and ALL Areas of Insurance & Risk Management.
At The Whitlock Group, we take this "data revolution" seriously, and are building out analytical capabilities to serve our clients for years to come.   
Our goal is to design decision support tools that are simple and user-friendly to help our clients protect and optimize their business.
For your upcoming insurance renewal, look for our new analytical touch on:
Claims Experience Analytics

– We dive deep into your risk profile, looking at exposure and claim trends, to advise and negotiate on your behalf.

Program Limits Benchmarking

– Our data-mining of litigation trends and program structures supports your insurance-buying decisions.

Pre-underwriting Analytics

– We take a proactive approach to tracking your risk, combining public and private data sources, to facilitate competitive underwriting.

Total Cost of Risk (TCOR) Evaluation

– Our quantitative analysis allows you to track the performance of your insurance and risk management program.
Take a look at some samples of our new Analytics:
Loss Summaries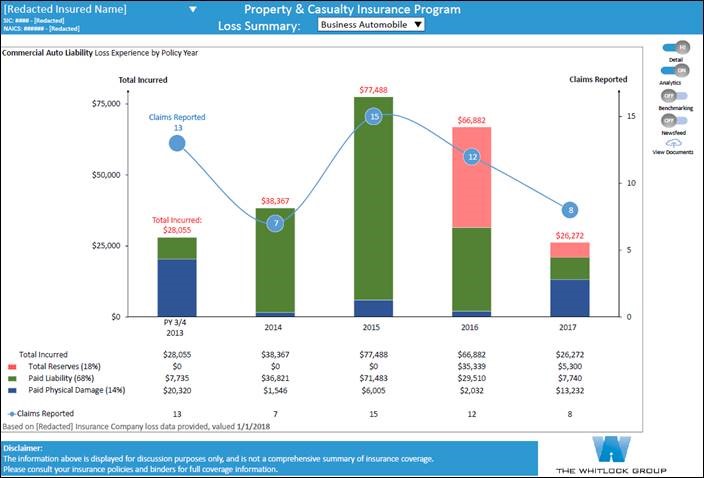 Summary of Policies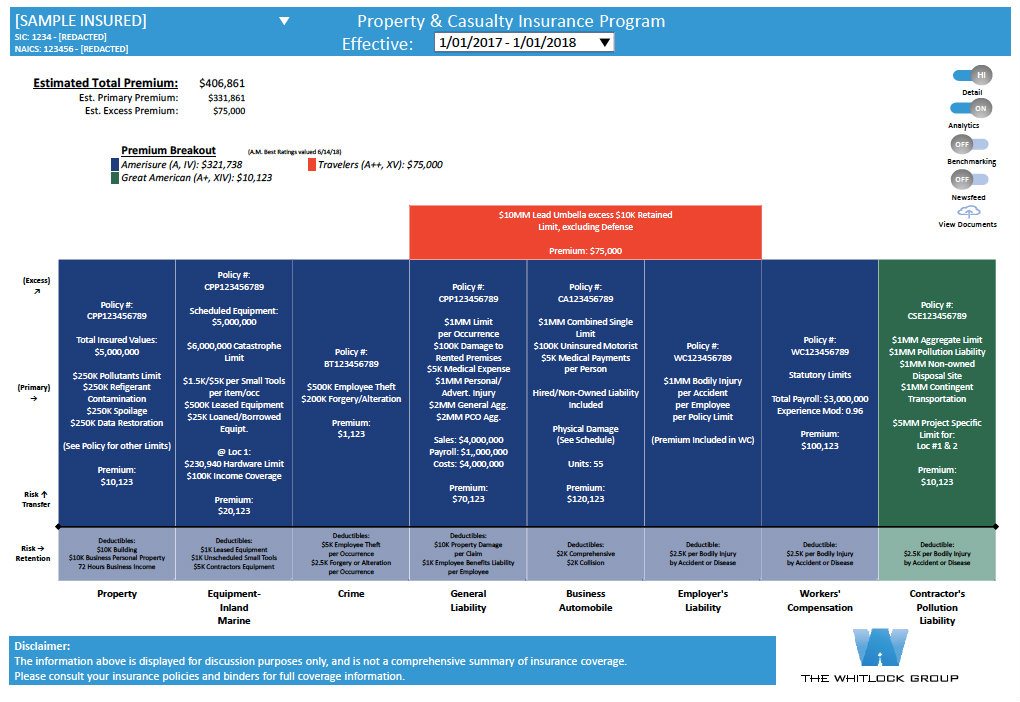 At The Whitlock Group, we combine Depth of Insurance Knowledge with Robust Analytics to aid our clients in controlling operating expenses, lowering risk and improving pricing.
If you would like to learn more about this new service, please contact us at: The Whitlock Group, 678-906-2008, gwhitlock@twgins.net.