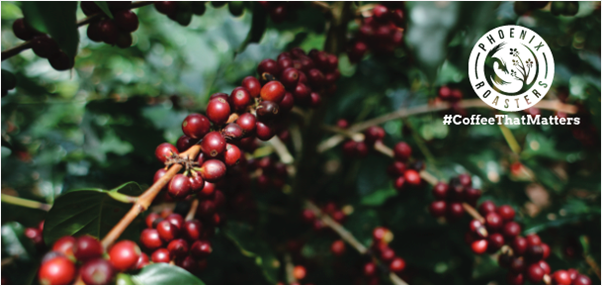 Phoenix Roasters is a coffee roastery that roasts, packages, and sells coffee from Central America for a good cause. They are a Christian organization using coffee to make a positive impact on countless lives across the world. They describe their unique process as a cycle of relief – from the cup you brew, to their roasting facility, to the international farmers, to their indigenous workers, every person involved is treated fairly and with compassion. They are just one supporting branch of The Phoenix Community of Atlanta, a religious non-profit organization that provides community, fellowship, and sermons in multiple locations around the city.
Phoenix Roasters employs international coffee farmers paying them socially responsible amounts that allow them to pay their indigenous employees a true living wage, unlike many other prominent coffee dealers. The Phoenix Roaster's farmers are involved in the relief and service efforts in their communities in that they are heavily involved with ensuring the living wages and continually improving conditions are the normality and remain consistent. Here in the states, Phoenix supports organizations that fight sex trafficking, address homelessness, and provide relief to single mothers. To learn more about this incredible organization, visit their website here.
The Whitlock Group sat down with Phoenix, and upon an extensive analysis of their insurance policies, we were able to form a partnership that benefited all parties involved on all fronts! But, you don't have to take it from us:
"Through a professional and thorough review, The Whitlock Group was able to improve our insurance coverage for both Phoenix Roasters and The Phoenix Community of Atlanta while lowering our costs.  They suggested areas of coverage that we had not considered but should have. We are very pleased to have such a responsive and caring group of people serving our insurance needs."
As you can see from Phoenix Roaster's quick review, acquiring more insurance coverage does not always equal paying more money. In fact, more coverage AND lower costs is an option when your insurance partner truly understands your company! To request a FREE quote for your business, please click here and see if The Whitlock Group partnership is right for you!